11 Jan

Top Photos of 2016

Another year has come and go, and for Sean Lara Photography, that means another spectacular year of wedding, engagement and portrait photography! 2016 was no exception, as I captured some amazing moments and photos that I and my wedding couples will treasure forever. I'd like to do something a little different from my typical blog, and share the top 10 photos I captured in 2016! This was a hard one. I captured portfolio-worthy shots from all my weddings, and while the photos on this list may not be the best, I chose them because they all have either a story or had some special technique involved.

Honorable Mention – Kissing over the ocean

This photo of Austin and Kim kissing over the bluffs got a lot of buzz on social media and amongst family and friends. I love shot this because it really shows off my style of combing landscape photography and wedding portraiture. I captured this at their destination wedding to Laguna Beach, CA.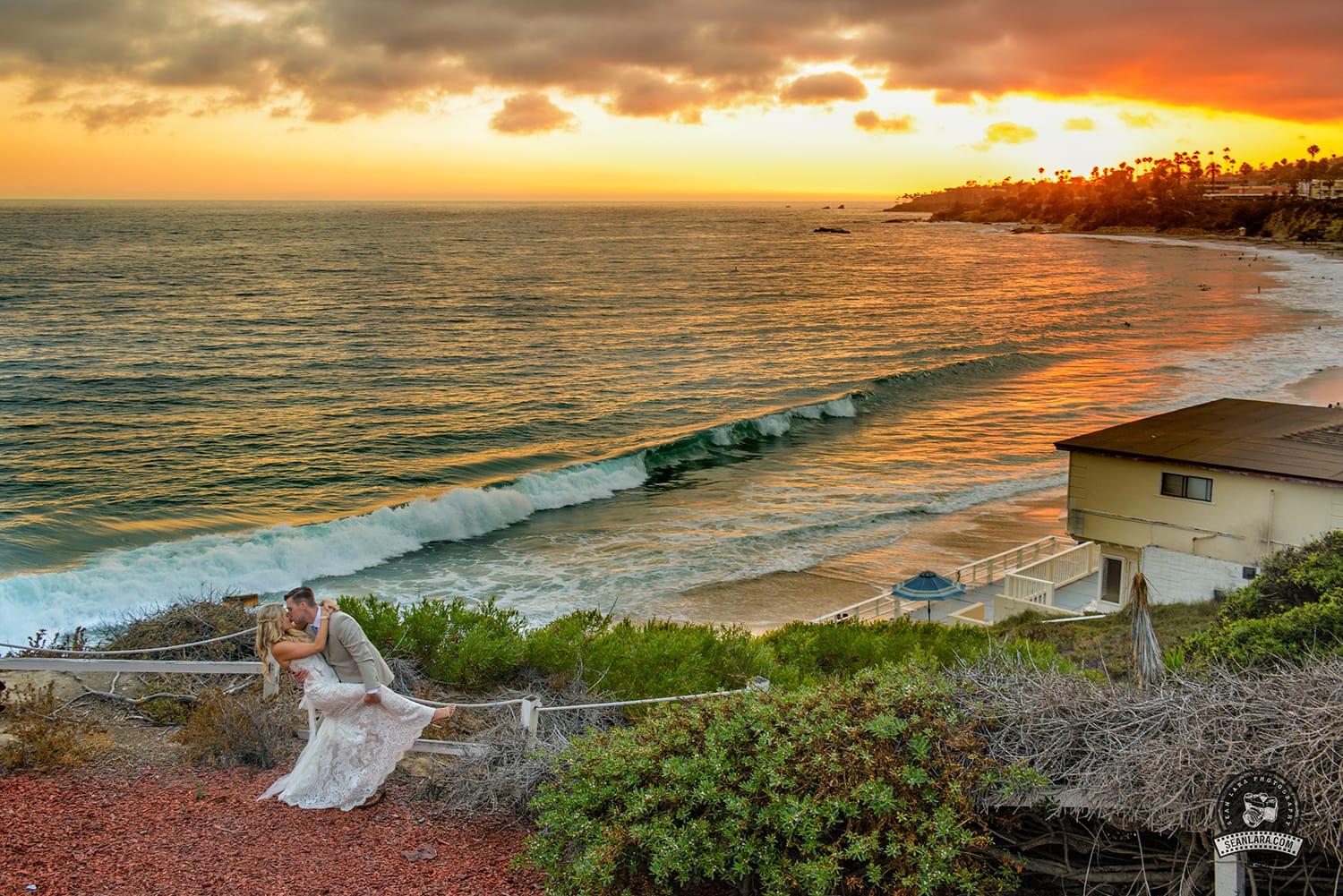 #10 – Rainy kiss at Della Terra
This was a fun photo that I've wanted to do for a long time, and the fact that it was at Della Terra made it even better. This was a late Spring wedding in the mountains and fortunately it didn't start raining until the reception. All night I had the idea for this photo in my head and I kept trying to pull out Ellen and Michael for a rainy photo, despite the subtle hints from the wedding coordinator that she didn't want me to (if you're reading this, sorry!). With a break in between the thunderstorms, I quickly pulled the couple out and captured this awesome, romantic photo.

#9 – Boulder Creek hangout
From a technical standpoint, there's nothing groundbreaking about this shot. No additional off-camera flash, no crazy posing – just an evenly naturally lit image. What I love about this shot is the fact that this bride on her wedding day was willing to get so adventurous. After the wedding in Boulder, we went up the creek where she climbed over this fallen tree hanging over the river, and took a very natural, relaxed pose leaning on her man while the tip of her dress hung in the water. Love it!

#8 – Infrared Poudre Canyon kiss
Sometimes you get that perfect light, and this was definitely the case for this photo. With Infrared photography, you get the best results when foliage is lit up just right by the sun and the variation of light hitting the trees in different spots gave this photo depth and really made the trees "pop" out to the camera. As a result, this is probably one of my favorite infrared shots from 2016.

#7 – San Clemente sunset
Another sunset shot! Why I chose this photo to make the list is because of the quality of light – it was perfect that day. The sunset behind them glowed bright orange, and the additional use of my off-camera flash created nice separation between them and the background. This shot also holds some nostalgia for me, because growing up I used to fish off that pier every Sunday.

#6 – Denver clock tower wedding
This is a "2fer", because I couldn't decide which shot I liked best. If you ever get the chance go up into the Denver Clock Tower, do it. The very top of the building has amazing views of downtown Denver (and I went to the very very top, I won't do that again), and inside has the beautiful back-lit clock. I love the first image in this set because of the romance, and dark, silhouetted lines. The second shot I love the lighting and the fun, sillyness the bridesmaids were exuding.
#5 – Looking up at the dress
The reason I like this photo can be summed up by one word – Cute! This was the daughter of the bride to be sitting next to mommy's dress. As the bride was getting her hair and make-up done, her daughter (and official flower girl) was looking up at the dress fascinated with how long and beautiful it was.

#4 – Rainy day in Moraine Park
Dawn and Dylan came all the way from Canada to elope in Rocky Mountain National Park, a very common thing amongst couples looking to intimately tie the knot with beauty all around them. I love wedding shoots like this because it allows us to take our time driving around looking for only the best spots without having to worry about looking at a clock, or getting back to a reception on time. Though it was raining and misty, this provided the absolutely perfect backdrop for this shot and I am in love with everything about it.

#3 – Groom tying the tie!
Let's be real for a second, there's not many times where the shot of a groom getting ready gets flaunted very often. The bride is usually the star of the show, she's looking beautiful, she's excited to get married, there are just more opportunities for a beautiful shot. In this case, I love this photo of Trent getting ready mainly because of what was involved in capturing it. Let me try to draw a picture for you – the guys were getting ready in a room with a big glass window and blinds in front of it. There was a little bit of light coming through the blinds, and I immediately had this idea of getting a silhouetted shot of Trent getting ready, but there was not enough light coming through the window to achieve the effect I wanted. I went outside the room and positioned a speed light pointed towards the glass with the idea that it would be at a high enough power to shine through the blinds. Well, it did, and the result was phenomenal. The green color in the blinds really popped, and I got nice shadows from the bamboo trees outside. Definitely a very cool shot for the "strobist" geeks like myself out there. Look at the photo below to see the "before", without the added flash.

#2 – I "love" this ring shot
This is one of the photos that I wish someone else was taking of a photo of me, as I was capturing this image. The bride and groom built a giant "Love" sign by themselves that was positioned about 40 yards away. In order to get this shot, I had to lay down on my belly on the concrete (in my nice clothes, mind you) trying to get pinpoint accurate focusing with my macro lens, which can be very hard to do from this position. I used flash off-camera to light up the ring on it's lowest power to try and match the dimly-lit sign coming from the "love", and this was the result. To date, this is one of my favorite ring shots (ties with the ring shot with the water droplets). To give you some perspective on what the "love" sign looked like, see the photo below.
#1 – The "fireworks" shot
And finally my number one! I refer to this as "the firework" shot, because everyone assumes they are fireworks, but they're actually not. For their engagement photos, Brian and Rebecca wanted to do something different, and before we met to take photos we did some brainstorming on something unique. Like any bride, they showed me some Pinterest ideas which helped me come up with the inspiration for this photo. What we did is mold some steel wool into a ball, lit it on fire, and spun it around to create this image. This year I've received more compliments on this shot than almost any other image I've ever taken. People are fascinated with it and always ask me how I captured it. Because of this, it's always a great conversation starter and has earned it's rightful place on the homepage of the website!