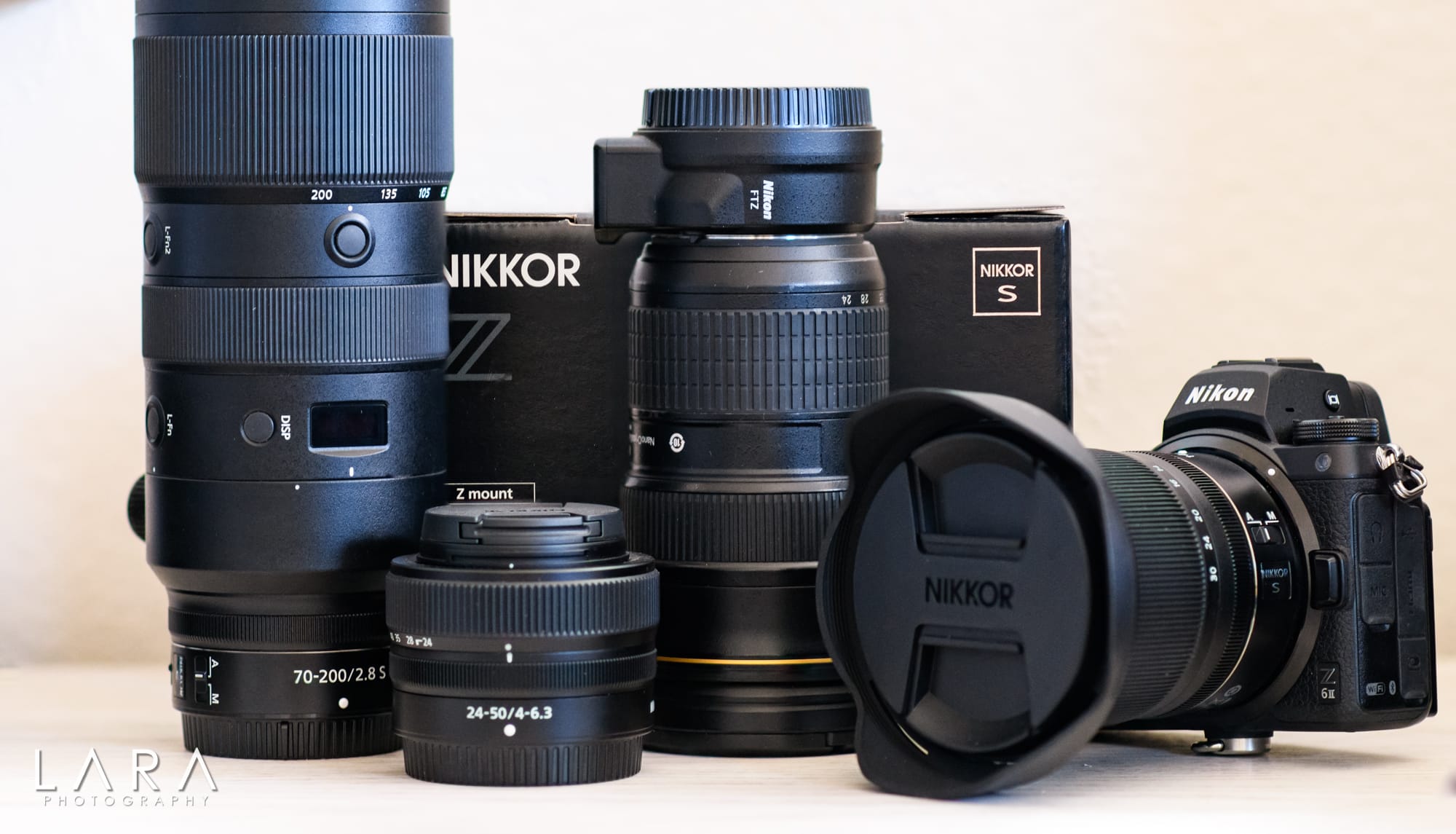 22 Feb

Why I switched to Nikon mirrorless cameras – Nikon Z 6II Nikon Z 7II Review

I have been a Nikon photographer for two decades now and have either owned or used almost every Nikon DSLR or Mirrorless camera ever made (excluding the Nikon 1 series cameras). I frequently update my gear as new equipment comes out and as a result, I usually have an educated opinion and feedback on how a specific camera performs. Full disclosure: while I do consider myself a Nikon-enthusiast, I'm certainly not brand-loyal and will call them out on their shortcomings and I review their equipment as objectively as possible. I'm not a tech geek that knows every little technical detail and specification when it comes to photography gear, but as a full-time professional that captures close to 100 assignments a year (most of those being weddings), I do have high standards and know what works and what doesn't. 

WHY I DITCHED MY D850 AND SWITCHED TO MIRRORLESS

Now with that in mind, I want to talk about why I have completely switched over to Nikon mirrorless and why you should too if you're a wedding or portrait photographer. For those interested, the mirrorless gear I currently own is the Z 6II, Z 7II, Z 70-200mm f2.8, Z 14-30mm f4, Z 24-50mm f4-6.3, and the FTZ adapter. I've also owned and recently sold the original Z6. I will be reviewing each of these pieces of equipment separately either in another post or a video.

Few would contest the fact that the Nikon D850 is the best DSLR ever made (even amongst all brands). It's an excellent well-rounded camera and has served me extremely well on all of my assignments, so why would I replace it? Well, the simple answer is because the Z6II and Z7II are incredible. Nikon's new mirrorless system certainly has some quirks (which I'll discuss in detail later) but it has made my shooting easier, post-production process faster, and has certain advantages that DSLRs simply aren't capable of.  
NIKON MIRRORLESS PROS


Nikon Z6 & 70-200mm 2.8 VRII (adapted) – 1/200s, f5.6, ISO 200
BUILT-IN IBIS: First and foremost, is the IBIS (In Body Image Stabilization) capability. This is a built-in feature that allows the user to shoot with slow shutter speeds handheld while maintaining sharp images.  What this essentially means is that I can use my old 85mm 1.8G DSLR f-mount lens, for example, with my Z6II or Z7II (and the FTZ adapter, of course) and it essentially becomes a VR lens. VR is Nikon's abbreviation for "Vibration Reduction", similar to Canon's "Image Stabilization" (IS) or Sony's Optical SteadyShot (OSS). This is an incredibly useful feature, especially for photographers who are in love with some of their older glass and want the added benefit of being able to shoot with slow shutter speeds in low-light conditions. 
[/vc_column_text][/vc_column][/vc_row]
INCREDIBLE SHARPNESS: The next thing I immediately noticed when switching over to mirrorless was how sharp my images were. I mean, wow! Especially with the Z 70-200mm, photos are incredibly crisp. When I was looking for the sharpest images I could possibly get out of my DSLR gear, I'd frequently use my 105mm f1.4E but with the new mirrorless system, I rarely find myself using primes anymore. The exception being when I want some creamy, dreamy bokeh. The reasons why photos are so sharp with the Z6II and the Z7II is mainly due to the shorter flange distance between the end of the lens and the sensor. Because there's no mirror in the way, mirrorless cameras allow lenses to be mounted closer. Additionally, and in my opinion, the most significant advantage is no longer having to calibrate lenses. For me at least, this was always a huge headache and quite frankly a pain in the ass. I'm not sure exactly the technical reasons as to why you no longer have to calibrate lenses on a mirrorless body, but frankly I don't care. I'm just happy it's not an issue anymore. This alone is reason enough for me to completely switch to mirrorless, but I'll continue to highlight the other pros.
Nikon Z 6II & Z 70-200mm 2.8 – 1/160s, f2.8, ISO 640
REAL-TIME FEEDBACK: At first I was a bit hesitant about the EVF (electronic viewfinder) in mirrorless bodies. The mirrorless cameras from other brands I have used in the past have been pixelated and underwhelming. As a result, I had low expectations. I also was under the initial impression that being able to see the world as it "actually is" through a traditional viewfinder was "better". I will say though, when I started shooting mirrorless back in 2019 I was immediately hooked. Nikon's EVF is excellent. The colors and exposure projections are almost true to reality which allows for accurate readings of the environment. This real-time feedback allows me to see how my white balance will look before I hit the shutter, and I make fewer errors when properly exposing an image. This is a huge advantage because it saves me a lot of time in post-production, and I can spend more time doing the things I like to do like going fly-fishing or playing World of Warcraft. 
NOT HAVING TO LOOK THROUGH THE VIEWFINDER: This is a HUGE pro I never considered prior to owning a mirrorless camera. Yes, the D850 and other Nikon DSLR's have a "Live View" feature that allows the user to take photos by looking at the rear LCD panel, but it's not very accurate and nowhere near as responsive as a mirrorless camera. As such, I rarely used it on my DSLRs unless I absolutely had to. As a photographer who is constantly searching for unique angles, I find myself frequently laying the camera on the ground, holding it high, and putting it in awkward positions. Because everything is electronic, taking a photo by looking at the rear LCD screen is just as reliable and responsive as it is looking through the viewfinder, and it's opened my world up to a new level of creativity. It's honestly mind-blowing how creative I've been able to get not being forced to look through a viewfinder. 
SMALL SIZE: A given advantage to mirrorless cameras amongst all manufacturers is the size and weight savings. At one point I was "dual wielding" a D4 and a D3s and after a ten-hour wedding, my shoulders were aching. Even though it's not a massive difference in weight reduction due to a significant portion of that weight coming from my lenses, every little bit helps and I can certainly appreciate it. 

Nikon Z6 & 16-35mm f4 (adapted) – 1/200s, f/18, ISO 200

Nikon Z6 & 70-200mm 2.8 VRII (adapted) – 1/200s, f5.6, ISO 200
QUALITY AND DURABILITY: This isn't something necessarily specific to mirrorless cameras, but definitely worth noting. Many (including myself at first) are under the impression that mirrorless cameras aren't as durable due to their small size. I can say with complete confidence that this is not the case with Nikon. I can't attest to the durability of the Z5 and Z50, but on the Z6 and Z7 lineup of cameras, it is excellent. It's made with the same magnesium alloy prominent in their other professional cameras and is weather-sealed. I've dragged my cameras through snow, shot in the rain, and captured sessions in temperatures as low as 0°F with zero issues. This is just a testament to Nikon's quality in general. Their professional lineup of cameras have always held up well for me and their mirrorless bodies are no exception. I must make the distinction of their professional cameras because they've made some absolute crap over the years (the D750 falls into this category for example – yes it's terrible, fight me). 
I do not have any hard proof to cite other than my personal interactions with other professionals (so take this with a grain of salt), but I truly do think this is where Nikon far excels over Sony. In my opinion, while Sony does do incredible things with their technology, Nikon makes higher-quality cameras and are built to last longer. If you're not consistently switching out equipment and want a camera that will last a lifetime, I can't recommend Nikon enough. I have talked to multiple photographers that have had issues with the build quality on their Sony cameras (particularly the A7III) including shutter failures and poor-weather sealing. 
NIKON MIRRORLESS CONS
There aren't many. But there definitely are some.
FOCUS SPEED: This is 100% Nikon's biggest challenge and their Achilles' heel. While the focus is slightly improved on the Z 6II and the Z7 II over the Z6 and Z7, it's still not perfect and falls short of Sony and Canon. In well-lit conditions, I've had no issues. When the lights go out, I will sometimes experience focus-hunting and slow response times. Coming from a D850 that has absolutely incredible low-light focusing performance, this can definitely be frustrating but there are workarounds. One of which is to put the camera in "Dynamic AF-C" mode. With this setting your camera will be in continuous focus, so you won't be able to lock-down your focus. But for whatever reason, I've found that the performance is improved in low-light situations. This is particularly handy during dancing situations in reception halls. 
For those wondering about the eye-detect AF, it's good and certainly usable, but not great. I'd give it a 7/10 if I had to put it on a scale. For me, I rarely use that feature so I personally don't see it as a concern. 
SINGLE CARD SLOT (Z6, Z7): Nikon has addressed this shortcoming with the recent release of the Z6II and the Z7II by adding a second card slot. But upon its initial release, the Z6 and Z7 only containing a single card slot was a terrible decision. Having to compete with Sony, who at the time dominated the mirrorless camera market, they really missed the mark here. In late-2018 when Nikon and Canon announced their mirrorless options, many photographers who were eagerly waiting for this were disappointed,  jumped-ship, and went to Sony. Nikon's one saving grace, however, is that they were smart enough to put an XQD card slot in there. While XQD cards are very expensive, they've been proven to be more reliable and durable than traditional SD cards. 
FINAL THOUGHTS
"TLDR" version: If you're on the fence and have the budget to switch over, I say go for it. No, Nikon's Z system isn't perfect, but it's close. The focusing issues are definitely their shortcoming, but I would imagine as firmware updates continue to be released and with the rumored Nikon Z9 in production, they can only go up from here. While I do admit Nikon is on the bottom of the pack right now in the mirrorless world, they'll continue to make advances. With the strengths they do possess and the excellent quality of the S-line of lenses, it will really help propel them forward and put them back in the game.
ABOUT THE AUTHOR:
Sean Lara is a professional wedding and portrait photographer from Northern Colorado. In 2020, he was named one of the top ten photographers in the world by the Wedding Photojournalist Association Artistic Guild. He's a photography educator and is an ambassador for MagMod, Holdfast, and CG Pro Prints and regularly speaks at WPPI and hosts private photography workshops for other pros looking to grow their business.