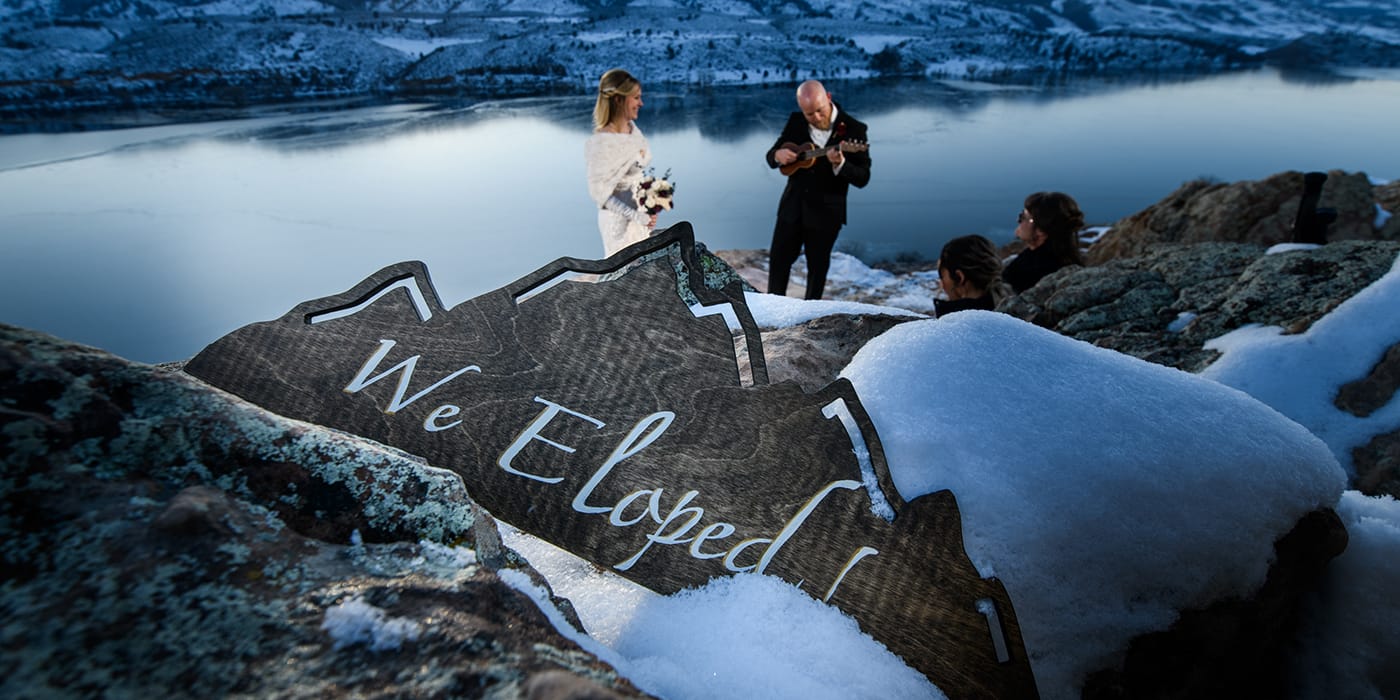 06 May

Should I Elope? 5 Reasons to Consider a Small Wedding.

Many couples today are choosing to host smaller weddings, more commonly referred to as "Elopements". The big question however, is an elopement right for you? After polling some of our previous couples who chose to host a smaller wedding, we've put together a list of some of the most common responses we received as to why they preferred a Colorado elopement to celebrate their marriage:

IS AN ELOPEMENT RIGHT FOR ME?
1. There's No Drama and Less Stress Planning
One of the most common reasons why our couples choose to elope is to eliminate the drama of planning a traditional wedding. There's significantly less stress with an elopement because brides and grooms don't have to worry about accommodating dozens or even hundreds of guests. They can focus on what's most important to them which is usually the location, spending time alone with each other and capturing unique photos. 
2. They Love The Outdoors
Another extremely popular reason for why couples love to elope is simply because they love the outdoors and being immersed in nature. And when it comes to sharing vows in Colorado, there's no better place. Mountains, rivers, valleys, plains – there are endless opportunities here to host a wedding ceremony. We regularly get couples that travel from all over the world to appreciate the wildlife and our views.
3. It's an Intimate and Private Affair
To some, the idea of a big, traditional wedding is unappealing. There are a lot of reasons why someone would choose to keep their marriage celebration intimate, but if a bride and groom want to celebrate in private, then an elopement is the perfect opportunity to do so. In some cases, hosting a large wedding can take away from the main message of the celebration – the love between two people. By having a private affair, the wedding focuses on what's most important for a bride and/or a groom. 
4. They Want an Experience-Based Wedding
As we mentioned previously, the thought of a traditional wedding just doesn't excite many of the couples who choose to elope. The concept of traveling somewhere beautiful and the journey itself is a gift, and those that choose to have an elopement absolutely love experience-based adventures. 
5. Phenomenal Photographs with Variety
And last but certainly not least are the photos! Another reason why elopements are incredibly appealing to our couples is because of the fact that they love to take photos and have art for their home. There is a lot more flexibility with a smaller wedding and as such, that gives us the opportunity to not only take more photos, but visit a variety of unique locations with a change in scenery. With the traditional wedding, we're limited to the spots at the venue but with an elopement we can explore and adventure in the mountains. 
To learn more about our Elopements, visit our page Colorado Elopement Photographers.
One of the most popular locations we like to capture elopements in is in the Estes Park area. To see more photos specific from Estes and Rocky Mountian National Park, check out our Estes Park Wedding Photographer page.