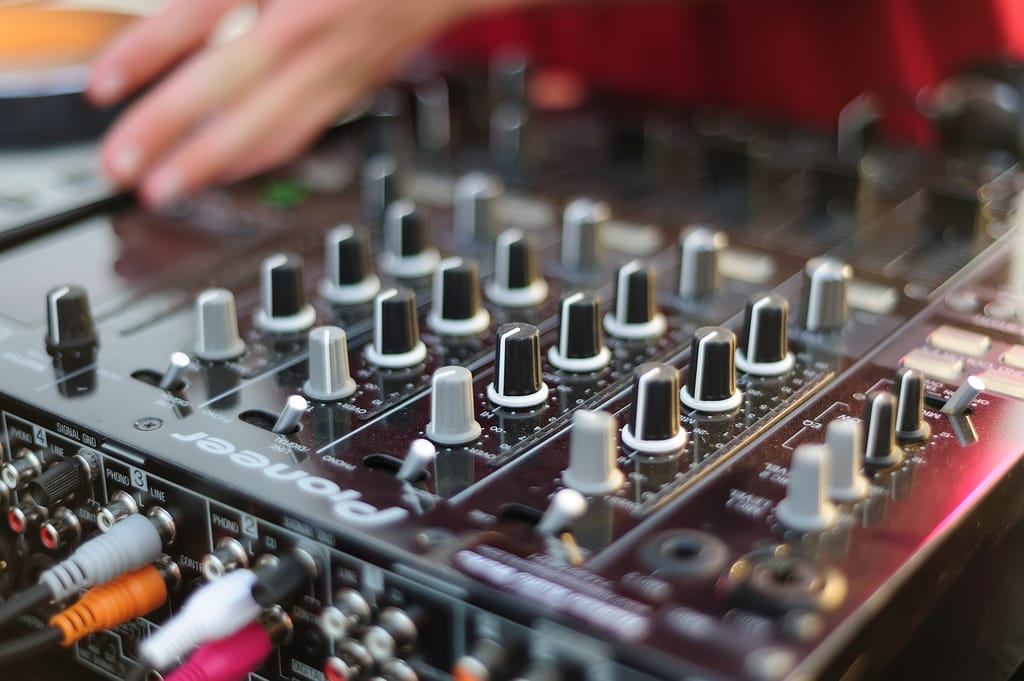 16 Mar

How to Choose a Wedding DJ

Photographers have a portfolio to help sell their work, caters will let you taste their food, florists will have flowers you can smell, but choosing a wedding DJ can be a difficult task. Unlike other vendors, it can be challenging for them to show off their work and demonstrate what they're capable of. They can't exactly give you a private show, so what can you do to see if a DJ is going to be a good fit for your big day? Being an amateur DJ myself and working along side hundreds has given me some insight on what makes a great disk jockey, so here are some tips I'd love to share with you when making your selection.
How to Choose a Wedding DJ
1) Personality – This is on top of the list, and for a good reason. You want a DJ that you can jive with and know is going to throw you a good party because that's exactly what they're doing – throwing you a party! It's incredibly important that your DJ is fun to talk to and gets along with your personality. They are going to dictate the flow of the night and can make or break a party based off their personality. Look for someone that is outgoing and knows how to get a crowd dancing.

2) Make sure they're an actual DJ – You would be surprised how many DJ's now a-days don't know how to live mix and beat-match songs. Why is this important? A good DJ will know how to blend songs for a perfect transition to eliminate silent gaps between tracks and keep the party going. Denver based DJ from Mike Hanby from Ignight Entertainment shares his tips on this subject:
"When looking for a DJ & MC for your wedding, first, make sure they're an actual DJ.  Listen to some mixes to check out their live blending techniques, and look for versatility (you don't want to listen to 1 genre the entire night do you?).  It's also import to ask them how long have they been DJing weddings, and if have they made music their full time profession."
3) Equipment – Even though you may not know the ins and outs of what appropriate DJ equipment looks like, make sure the person you choose to host your event is prepared! If you're hosting your reception in a huge ballroom, make sure they have speakers loud enough to project sound throughout the entire room. Not only is it important for them to have the appropriate equipment for the job, make sure they have backup speakers, cords, microphones, mixers and other essentials. Speaking from experience, DJ equipment breaks ALL the time so it's important they're prepared. In addition, try looking for a DJ that has a variety of neat uplighting selections – good lighting can completely change the mood of a wedding reception.

4) Music Selection – Choose a DJ that has a good selection of music and fits your own personal taste in music. If electronic music is your preference, why would you hire a DJ that specializes in Country weddings?
5) Make sure they're a great MC – There are two sides to being a successful wedding DJ. There's the DJ and actual mixing aspect, and then there's the MC (master of ceremonies) portion. You want a personality that will not only play good music and play it well, but someone who knows how to speak on a microphone well! Also choose someone that has ideas on some good wedding reception games and activities. Sometimes the party may get a bit bland, so having a good MC to get the crowd excited will ensure the success of your party. Mike Hanby has more tips on this subject as well:
"As for of the MC side of things, nothing beats an in-person meeting.  Your goal here is to find a competent host to run your party, and the right personality to be the frontman of your wedding!  At the end of the meeting, match their professionalism, style, and energy to your wedding vision and ask yourself – can I see them providing the level service that I want for my big day?"
6) Ask for referrals and check reviews – At this point in the process, you've probably already selected a venue, a photographer, and possibly other vendors. We work with other vendors for a living! We've seen it all and worked with almost everyone, we always have suggestions on other vendors that will complement your wedding well. In addition to asking for referrals, you can also check their reviews on Google, Facebook, the Knot, WeddingWire, etc. Nothing goes further than reading good reviews.

7) Clothing – This goes for all vendors, but I can't stress this enough, make sure to ask your DJ what they typically wear to a wedding and tell them what the dress code is for your particular day. Your DJ is running the show, so all eyes are going to be on him/her. I recently attended a formal wedding where the DJ was wearing basketball shorts, a tshirt, and a baseball cap – not kidding.
8) Meet in person, and bring a list of questions – As Mike stated earlier, try and meet with your DJ in person (or at the very least, on Skype) and make sure they're a good fit for your wedding and personality. Here's a helpful list of questions you can bring to your consultation:
https://www.bluelindenweddings.com/wedding-blog/2018/1/18/hiring-a-dj
Looking for other wedding tips?